Marianne S. - Experienced Native Spanish and German teacher for children and adults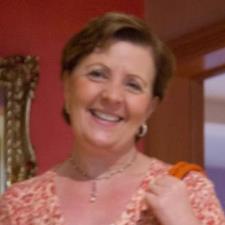 $50 / hr
Lynnwood, WA
15 miles Travel Radius

In-person + Online
I am a native Spanish and German teacher. I teach all levels and ages. I personalize my teaching to the needs of every student and master the diverse cultural background of both languages by differentiating their wide regional spectrum. I graduated as a Special Education Teacher in Mexico and worked as such for 15 years. Over the last 14 years I taught Spanish and German successfully in Minneapolis, MN, teaching groups, homeschooling children and adults. I have also tutored extensively childr...
Reviews
Marianne has been teaching my fourth grade daughter German for three months now. Each lesson consist of various activities including speaking, writing, games and songs in German. My daughter really likes Marianne and is learning German faster than I expected.
- Thomas K. from Bothell, WA
She is the first teacher that helps so much for actually being conversant in German. I am an intermediate learner. I increase my vocabulary, I improve my grammar, I am taught common idioms, and most importantly, I develop a greater love for the language. She is an awesome teacher, and I highly recommend her!
- Susan V. from Woodinville, WA
My daughter loved working with Marianne! She said that she learned so much in just one hour with her.... helpful to have a positive teacher and thorough teaching.
- Carol K. from Bothell, WA
Marianne is fantastic-- full of energy and totally organized. We launched into beginning German within minutes, and feel confident that we have chosen the best person and teacher for the job!
- Erica L. from Langley, WA
Marianne is a wonderful and knowledgeable tutor. She is very patient with my son and is able to figure out the areas he needs to work on. And his grade has improved since he started his lessons. We highly recommend Marianne!
- Nyle M. from Lynnwood, WA
She teaches me spanish grammer, helps me with verbs, sentence structure, and sometimes vocabulary. She has helped me get an A in spanish and a 100% on almost every quiz/test. My confidence with speaking spanish has also increased . Thank you Marianne
- Adithi A. from Redmond, WA
We have had an excellent experience with Marianne. My daughter has only had 2 lessons, but it already gaining confidence. Very helpful and enthusiastic. Looking forward to working with her in the coming weeks.
- Shawna D. from Kenmore, WA
Marianne was so fantastic! If you are looking for a tutor to help you with your Spanish-look no further. She helped me with the little things to perfect my Spanish, -we worked on spelling, reading, grammar, pronunciation. Marianne focuses on helping you, she constructs all the lessons around what need. She is prepared with games, songs, books, and many other materials to help you with memorization and practice. I really enjoyed all of our lessons and learned so much!
- Emily C. from Marysville, WA
Marianne is tutoring both of our high school kids and has been just great. It is obvious she has significant teaching experience and she really cares about her students making progress. She is really focused at each session and covers a lot of ground. We couldn't be happier with our investment in our kids success.
- Steven J. from Snohomish, WA
Marianne tutored our child in Spanish for the entire school year. She is a knowledgeable, patient, and kind tutor. With my authorization, she communicated with our child's teacher to ensure that she would tutor our child on the specific areas being tested. I highly recommend her tutoring services.
- Racine D. from Sicklerville, NJ
Marianne is an enthusiastic and passionate tutor. She is very open to feedback, and eager to tailor her class to her student's needs.
- Christine C. from Cherry Hill, NJ
Marianne is a great educator and tutor and after the first lesson I learned so much already. Her approach is so effective and she is sure to cover all the grounds of learning a new language. What helps me the most is how conversational she is and I feel myself taking away so much from the lesson. She is always thinking of new ways to help you improve. I am new to WyzAnt but my experience could not be better!
- Amanda W. from Philadelphia, PA
Marianne is a wonderful tutor! Her command of the Spanish language is excellent. My goal is to improve my speaking skills, and as we spoke, Marianne made helpful corrections and suggestions. Her ability to assess a student's strengths and weaknesses is exactly what I had hoped to find in an instructor. I will definitely continue my studies with her!
- Beth M. from Haddonfield, NJ
Prepared, enthusiastic, professional. Was able to assess my learning level and style very quickly. I would highly recommend Marianne to anyone.
- Tova D. from Mount Laurel, NJ
Marianne was able to quickly assess my current skill level and tailor our tutoring sessions for my specific needs. She is cheerful, encouraging, and has a strong desire to see that her students improve their language skills.
- Ginger W. from Medford, NJ
Search More Tutors in the University of Washington Area